And all of that leads to Find My Tow.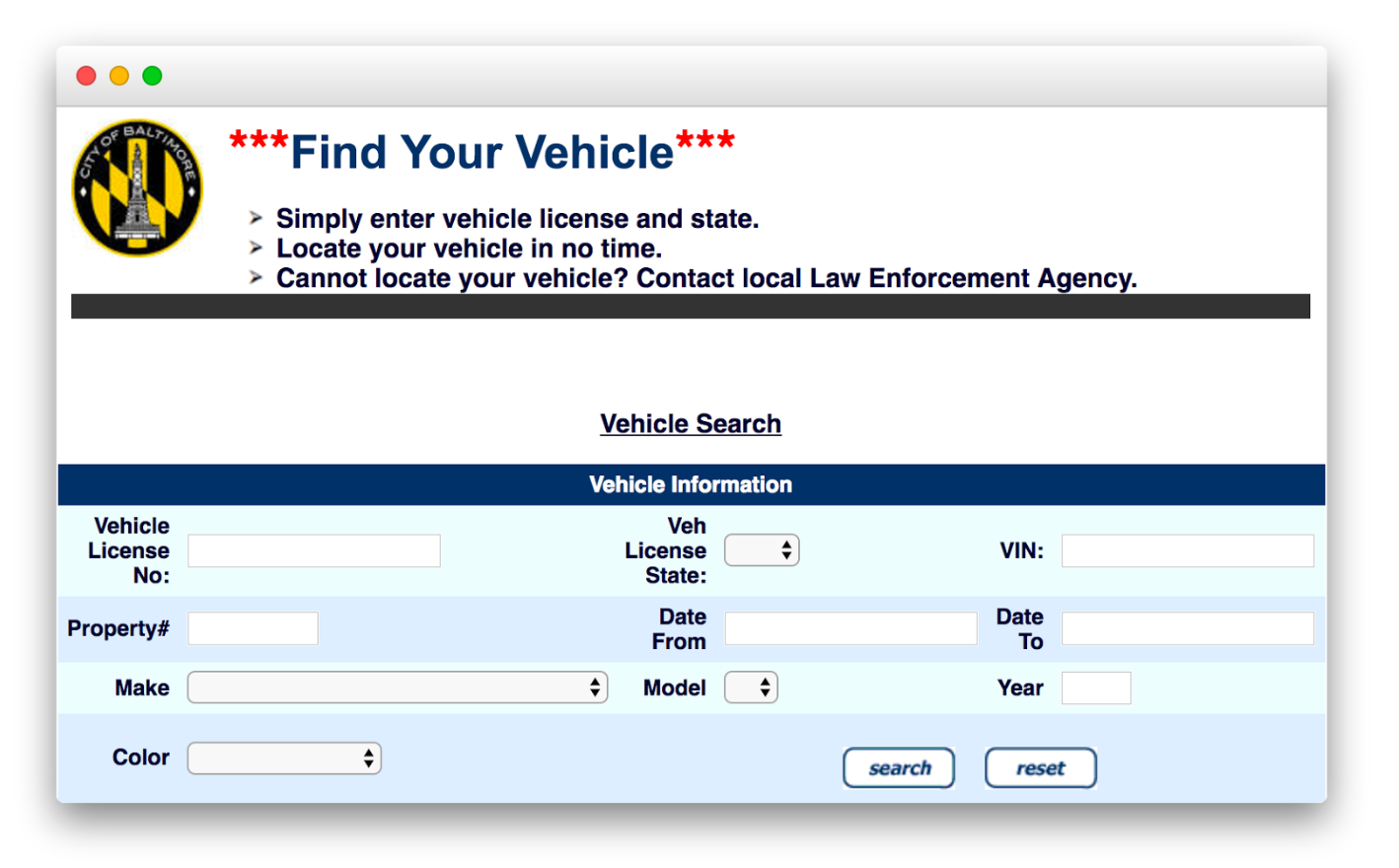 There are no typical competitors in this space, but there are similar systems in place in other cities. After looking at places like New York, D.C., Seattle, Denver, Miami, etc., I found out that cities either create their own towing database, contract out like Baltimore did, or have no system in place.

I went to reddit and nextdoor to find drivers who were towed. They ranged from age, gender, years of driving, and years of living in baltimore, but all had been towed within the last couple of years. I sent a survey that covered their familiarity with public transportation, getting towed, retrieving their car, and made sure to include a text box to allow for any additional details.

Prior to sending out the interviews, I created a screener, which was essentially just a list of characteristics and questions that would point out any drivers who I'd really like to talk to. For example, if a driver was not familiar with any public transportation, out of town, and had a particularly negative experience, I'd really like to hear more about that person's account.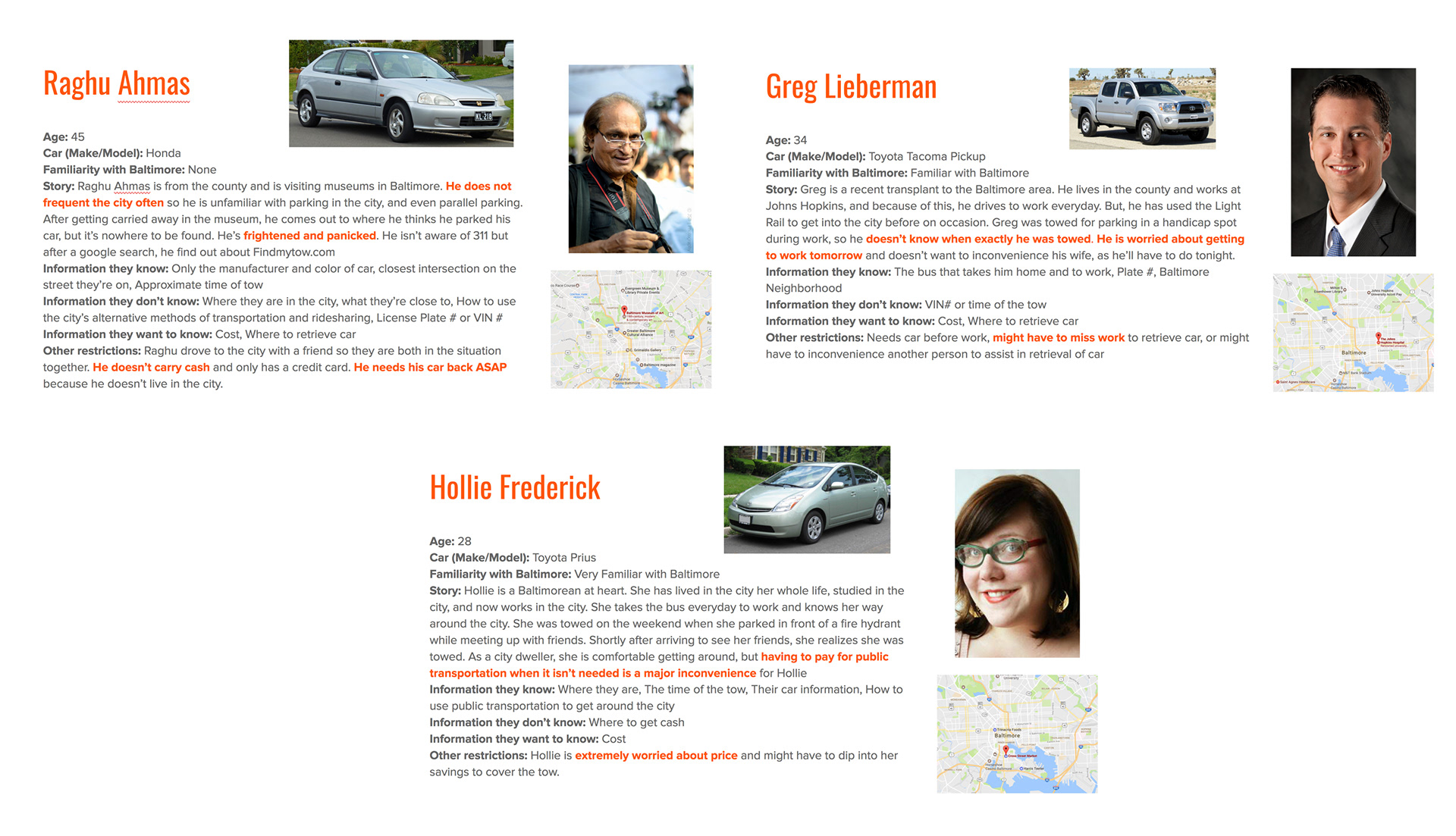 The funnel matrix helped me think about all the stages of getting towed, and the information possessed and needs of the driver at each stage. Finding out you've been towed, inputting information, analyzing results, and finding and retrieving their car. Each step needs to be provided with the right information. It ended up being boiled down to 3 main steps.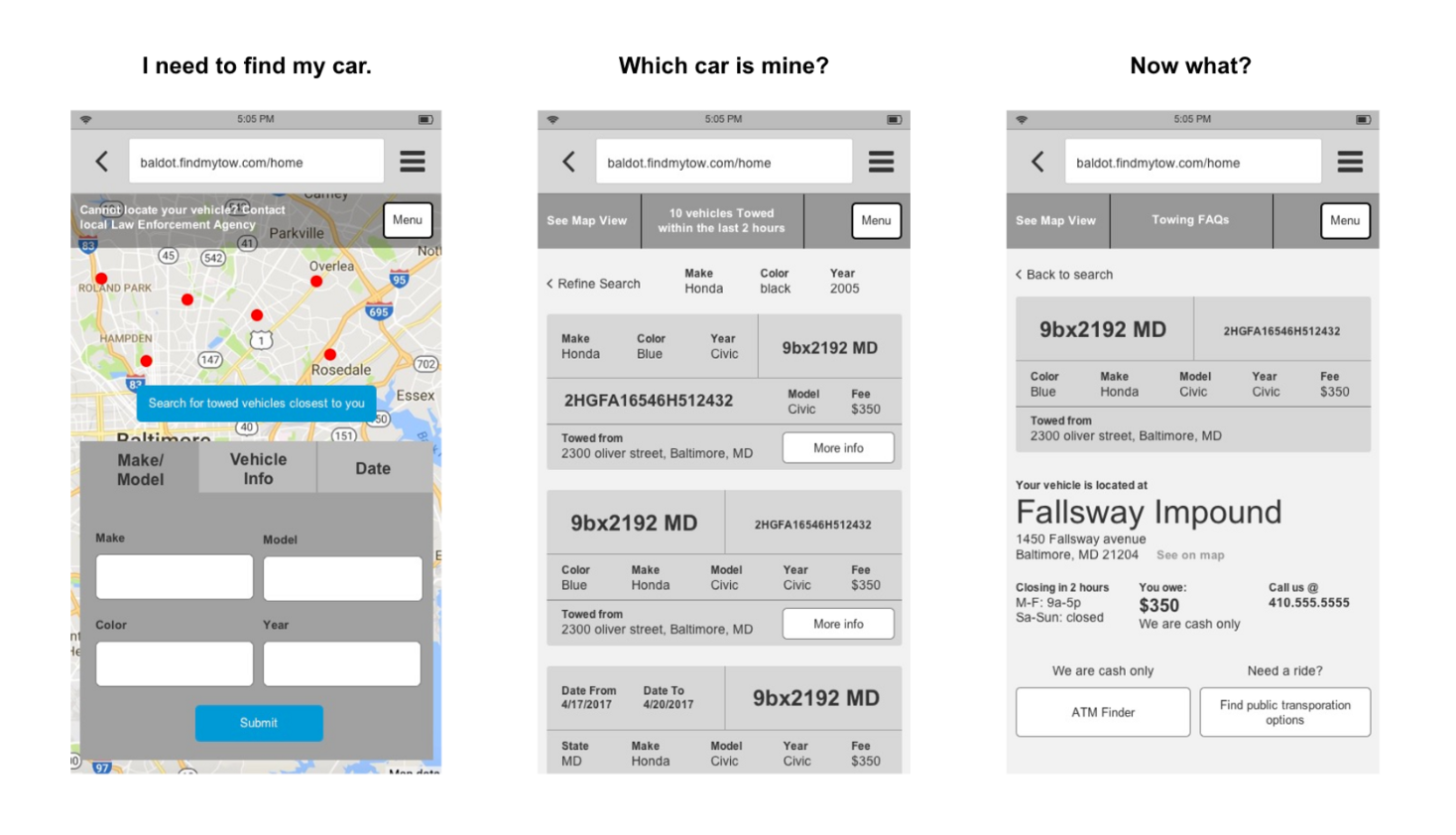 The first step is finding your car. Then you need to find your car out of all the results. Finally, you want find out how to retrieve the car.
Baltimore is a city that people race through. Connected to I-95 makes it perfect for just that, along with many drivers coming in from the county. You may not be from Baltimore and know exactly where you are in the city so on the home screen, if you 'allow location access', you can see recently towed cars nearest to you.
Many survey respondents didn't know their plate # or VIN #. The form to input information is tabbed and grouped into categories with related fields, which limits the mental barrier to perform a search query.
Results are displayed in a modular fashion. Cards display different fields depending on the search result. A search for 'Make, Model, and Year' will display cards with those fields at the top.
Tow lots in baltimore aren't open on the weekends, are cash only, and may not be close to you. When you have your primary method of transportation taken away from you, and are unfamiliar with public transportation, getting to the tow lot can be challenging. Once you find your car, the next screen shows all of the necessary information needed to retrieve the car. Hours, location, and fee. Also, there are ways to find an ATM and transportation options.